What do you get when you mix the charm of a New England coastal town and the formal grace of a boat retreat? You get Disney's Yacht and Beach Club Resort. This set of sister resorts sits in the middle of Walt Disney World Resort and packs a 1-2 punch when it comes to some of the best stays on the resort property. That's why the Yacht and Beach Club are up next on our Walt Disney World Resort(s) showcase.


No need for a pun. We beach you to it.
Starting off with Disney's Beach Club Resort, the first thing we should point out is this resort is part Disney hotel and part Disney Vacation Club Resort. That means whether you're a party of 4 or a party of 8, there is a room that can fit your family and friends' needs.
Photos Courtesy of Walt Disney Travel Company

Decorated in cool, coastal colors, the Beach Club is the perfect, laid-back stay for those who enjoy life by the sea… and while you're technically not on the ocean, you can still take in a beautiful view of Cresent Lake, which is perfectly surrounded by Disney's Yacht and Beach Club, Disney's Boardwalk Inn, and the Walt Disney World Swan and Dolphin. Another great perk of this resort is you're practically neighbors with EPCOT, so no need for a bus or a boat. You can just pretend like you're doing the "Cha Cha Slide" and sliiiiide to the left and walk a short distance right into the back entrance of the World Showcase!
Plus, that view… it's the perfect sunset to the perfect "Disney" day.
Time to eat! (Dining Locations INSIDE Disney's Beach Club)
If you're a seafood lover, you're in luck. Cape May Cafe is the place to be for anyone who loves combining the words "all you can eat" and "shrimp" together because its buffet is just that… an "endless" supply of Peel-n-Eat Shrimp, Cape May Clams, Oven Roasted Lemon Chicken and Slow-roasted Strip Loin. You can even step it up a notch on the Fancy Scale and order Snow Crab legs by the pound and whole Lobster. ** This restaurant is also home to a wonderful breakfast buffet! So, don't worry… Mickey Waffles are just around the corner! Literally. …It's right beside the lobby.** Advanced Dining Reservations are recommended at this location.
Photo Courtesy of Disney Parks Blog
Whether it's Wine Wednesday or any day that ends in "y," if you're looking to have a toast and take in a glass of wine or a draft beer, Martha's Vineyard is a lowkey place to do so on property in the evenings. Here you can have a glass of your favorite imported wine and an appetizer, while you kick back and think about the magic you've experienced that day.
Lastly if you're needing a meal on the run, a bottle of water for the hot day ahead, or a sweet snack you can slide on into Beach Club Marketplace. It's open for breakfast, lunch, and dinner so if you're spending the day at the resort, it's the quickest place to curb your appetite.
You thought the sea jokes were over? They're knot. We're only halfway done.


Moving on to Disney's Yacht Club Resort, you'll find that not only has the color scheme changed, but the mood has changed too… and we're feeling sophisticated.


Photos Courtesy of Walt Disney Travel Company
Disney's Yacht Club rooms hold parties of 4-6, with most rooms having either a King/daybed set up or 2 queens and a day bed. These rooms have a sleek, neutral color palette. While the rooms tend to be a little more simplistic, you don't want to overlook the amazing curtains that are covered in constellations of some of your favorite Disney characters. Details like this are what adds a little touch of magic to a Walt Disney World stay.
I'm still hungry! (Dining options INSIDE Disney's Yacht Club)
Like at Disney's Beach Club Resort next door, if you suddenly realize "it's five o'clock somewhere," Disney's Yacht Club has 2 places to help you pass the time. Just stroll into the Crew's Cup Lounge or the Ale & Compass Lounge, which is part of the Ale & Compass Restaurant. For a quick meal on the go, you'll want to visit The Market at Ale & Compass. **Special note: While the quick service offering shares a name with the lounge and the restaurant, this dining destination is actually located across the lobby and slightly down the hall.**
As mentioned above, unique to Disney's Yacht Club is the Ale & Compass Restaurant. This table service dining location offers New England comfort food and meals for even the pickiest taste buds. While an advanced dining reservation is recommended, this is the type of place where it's much easier to hop on a waiting list. Plus, while you wait you can grab a drink at its lounge to pass the time.
However, the star of the dining show at the Yacht Club is the Yachtsman Steakhouse. Here you can find a high-end, premium menu full of things like dry-aged pork chops and mouth-watering steaks, as well as a dessert menu fit for a queen… or should we say captain?
Sharing is caring.
While Disney's Yacht and Beach Club have many different things going for them, some of the best features of these resorts are things they share! Beaches and Cream Soda Shop
Step back in time and enjoy something yummy like a burger and fries, but make sure you to save room for the "real reason" to come to this hoppin' place… dessert! Most famously known for its "Kitchen Sink," this dessert seems like it never ends. Made with 8 scoops of ice cream and every topping you can imagine; you'll leave feeling like Vanelope Von Schweetz!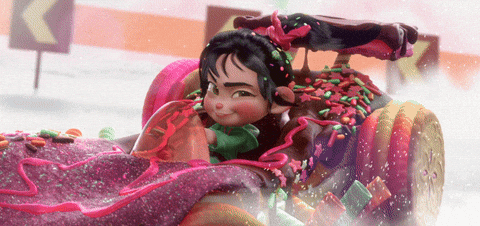 The other heavy-hitter desserts at Beaches and Cream are the shakes. These guys are basically multiple desserts, combined into one. Just make sure to have those nails painted. You'll definitely be posting these on social media when they arrive at the table. We could seriously write you a book about the desserts here, so let's just make the point with a series of pictures that showcase the goods.
Stormalong Bay
The most important thing to showcase at Disney's Yacht and Beach Club is the PHENOMENAL pool. Welcome to Stormalong Bay.


Don't be fooled, this is not your average resort pool. We're talking a 750,000-gallon central Florida escape. It's got sand-bottomed swimming areas for the kids, a pirate-themed slide for the big kids, multiple hot tubs for the adults, and a lazy river. **Note: this lazy river is much deeper than the average. If you are on the short side, the water will go over your head. Use caution.**
It's the perfect place to catch some rays, read a good book, or take a nap. Plus, if you find yourself needing a snack or a drink, you're in luck. The cutest little pool bar around, Hurricane Hanna's Grill, is just a few steps away!
If you want to make your time at the pool extra special, you can actually rent a cabana to have some privacy. It features things like cocktail service, a stocked mini-fridge and a ceiling fan! Make sure to talk to your MMV agent about getting one booked for you.
Another thing to note about Stormalong Bay is a wrist band per person is required for entry. To get your wristband simply visit the Cast Member at the pool entry and they will scan your magic band. Once you are verified as an onsite guest (done daily), they'll receive your band for the day.
A few other key things to note…
Disney's Yacht and Beach Club are Skyliner resorts. That means if you need a quick lift to Hollywood Studios or another Skyliner resort, you've got a quick ride to your destination.

There are also boats that can take you to and from Disney's Hollywood Studios and EPCOT.

Buses are utilized for Disney's Magic Kingdom and Disney's Animal Kingdom

Keep your eyes peeled for characters to come by. Goofy and Pluto have been known to pop in and out of the pool area during the day.

If you fall in love with the lobby smell, it's Green Clover and Aloe. (You're Welcome!) Slide on over to Disney Springs and check out Marketplace CoOp. You can actually purchase a candle and oils that match the smell.

During the holidays, Disney's Beach Club gets an annual carousel made completely out of gingerbread. That means book your stay early.

This resort is a great place to get married. We specifically mention this because one of our agents did just that. Did you know that MMV can help get you set up with a "Fairy God Mother" who can help all your Disney wedding dreams come true? We sure can!
We know you will love this resort as much as we do! So, when you are ready to book your Yacht or Beach Club adventure contact your MMV agent to get booking.
Need to keep this info handy? Pin this for later!
MMV Agent Blog